VEGETARIAN RECIPE
Chocolate Rainwater Scrolls with Persimmon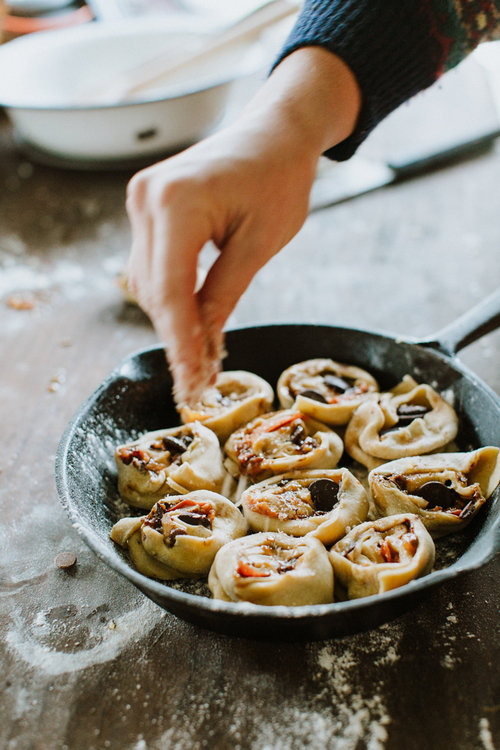 Ingredients
1 tablespoon active dry yeast
250 ml milk
80 g ghee, at room temperature
2 tablespoons caster sugar
2 teaspoons salt
2 large eggs
900 g plain flour
———
80 g ghee, melted
80 g brown sugar
1 persimmon, cut into bite-sized pieces, seeds removed
1 orange, halved
———
200 g good-quality chocolate bits
———
ghee, melted
Makes 20
HOW TO MAKE IT
Light your fire and let it burn down until you obtain a medium heat. I cooked these in a wood-fire oven but just be warned they can take a good hour to heat up. You can also bake the rolls in an electric or gas oven preheated to 180∞C.
Pour 250 ml lukewarm water into a small bowl, add the yeast and stir until it has dissolved.
Combine the milk and ghee in a small saucepan and simmer over low heat until the butter has melted. Remove from the heat and stir in the caster sugar and salt. Mix in 250 ml cold water and then the eggs, one at a time.
Tip 600 g of the flour into another bowl, make a well in the middle and add the activated yeast and the egg mixture. Stir with a knife until a dough starts to form, then turn it out onto a floured surface and knead for 5–10 minutes, adding as much of the remaining flour as needed to make a light, non-sticky dough. If you add too much flour the dough will be tough to eat. Place the dough in an oiled bowl, cover with cling wrap or a damp tea towel and leave to prove for 1 hour or until doubled in size.
Meanwhile, put the ghee and brown sugar in a cast-iron frying pan, and place on the wood-fire oven or stovetop over medium heat. Add the persimmon and squeeze in the juice from the orange, then toss the orange halves into the pan too (they'll add flavour). Cook for about 10–15 minuites or until the persimmon is cooked and caramelised. The cooking time will depend on the heat of the oven or stove – it shouldn't be too hot; 120∞C is about right. Remove the orange halves and leave to cool.
Punch down the dough and roll it out on a floured surface to a rectangle about 1.5 cm thick. Drizzle over the permission mixture, then sprinkle on the chocolate bits. Roll it up nice and firmly, then use a sharp knife to slice it into pieces about 2.5 cm thick. Arrange the rolls in the pan that was used for the persimmon mixture – don't rinse it out first; you want all those lovely flavours in the pan. Alternatively, arrange the rolls on a large well-greased baking tray, leaving a little room between each one for spreading. Cover and rest for about 30 minutes.
Put the pan or tray in the oven and bake for 20–30 minutes or until the rolls are cooked through and lightly golden. Remove and leave to cool slightly. Drizzle a little more ghee over the warm buns and eat! YUMMM.