MEAT RECIPE
Pancetta & Potatoes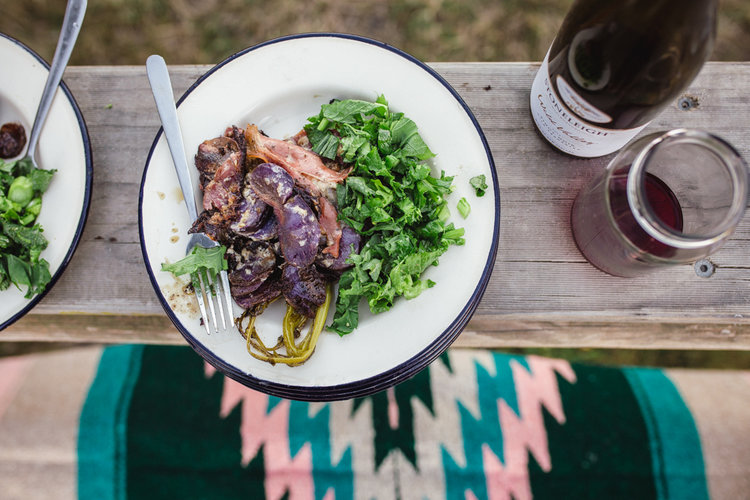 Ingredients
15 slices of pancetta
8 purple potatoes, very thinly sliced
500g Pepe Saya or other good-quality creme fraiche
1 cup white wine
bunch of overgrown broccoli, plus extra for salad
ghee
bunch of overgrown broccoli
juice of 1 lemon
olive oil
Feeds 4
HOW TO MAKE IT
Light your fire and let it burn down until you obtain a medium heat. Line the bottom of your cast-iron pot with pancetta so it goes up the sides, then arrange a layer of potatoes on the bottom, overlapping slightly. Spoon the creme fraiche evenly over the potato, add the wine and then fold the pancetta over the top. Arrange the broccoli around the outside of the pancetta.
Pour a little ghee around the sides of the pancetta and put the lid on the pot. Place the pot in the coals of your fire or on a tripod (you don't want it too hot or it will burn). It should take about 30–45 minutes for the potato to cook and the pancetta to develop a nice golden colour.
Serve with a simple mixed salad. I just used some raw overgrown broccoli dressed with lemon juice and a drizzle of good olive oil.