MEAT RECIPE
Spiced Lamb Meatball Pizza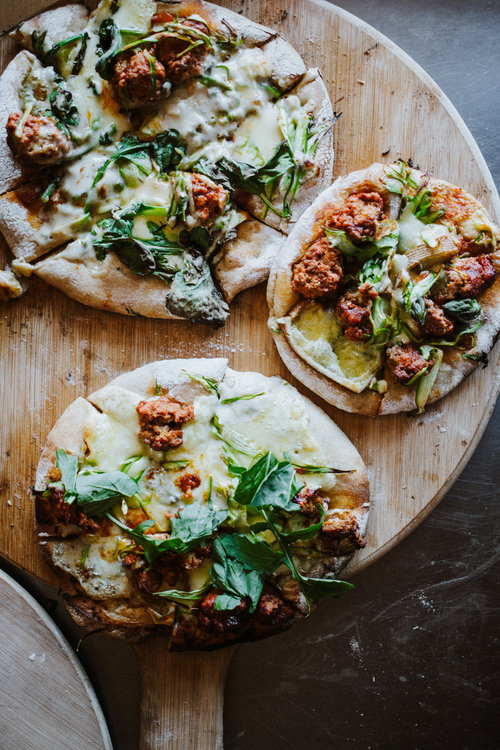 Ingredients
500g lamb mince
1 onion, diced
1 clove garlic, diced
1 tablespoon of harissa paste
100g ricotta
100g parmesan cheese grated
Olive oil or grape seed oil
1 onion, diced
1 x 400g tin whole cherry tomatoes
50g harissa paste
Salt and freshly ground black pepper
Saltwater pizza dough, recipe below
__
Saltwater pizza dough
500g strong bread flour
350ml seawater, warmed to body temperature (37°C), strained though a muslin cloth
7g active dry yeast or 21g of fresh yeast
Feeds 4
HOW TO MAKE IT
Light your fire and let it burn down until you obtain a medium heat. In a medium bowl add the lamb mince, onion, garlic, harissa paste, ricotta and parmesan, mix together with your hands, then roll the mixture into meatballs about the size of golf balls and place in a large frying pan.
Open the tin of cherry tomatoes and squish these babies on top of the meatballs. Season to taste, then let it simmer until the liquid has reduced to your preferred consistency – it's up to you how much sauce you want to serve with the meatballs and on top of your pizza.
Make your saltwater pizza dough and roll it out thin, top with a bit of the meat sauce, smash a few meatballs on top, add your favourite cheese and cook in a wood fire oven at 220°C for 5 minutes or in a oven for 8-10 minutes, till the base becomes lightly crispy, brown and the cheese has melted.
Saltwater pizza dough
Tip the flour into a large bowl. Make a well in the centre and add 350ml of the warm seawater and yeast. With your fingers, bring the dough together and knead for 10–15 minutes or until it becomes smooth. You might need to add more seawater if the dough is dry, you want a sticky smooth dough. Place back in the floured bowl and cover with a clean tea towel. Rest in a warm spot for 1 hour or until it doubles in size. Punch it down before use.
Note: You can let this sit overnight in the fridge. Just bring the dough together – no need to knead it – then cover and leave in the fridge overnight. The next day, leave it in a warm spot to get to room temperature before using.